The 2021 Subaru Love Promise Customer Commitment Award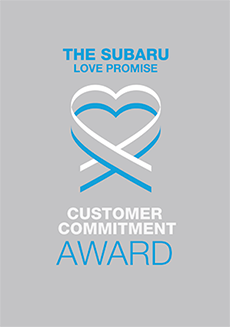 We've been nationally recognized for our dedication to our customers and the Subaru Love Promise.
We're honored to receive the 2021 Subaru Love Promise Customer Commitment Award. This award nationally recognizes Subaru retailers who demonstrate excellence in all areas of customer-focused performance. It highlights exceptional customer service that builds lifelong relationships with Subaru owners.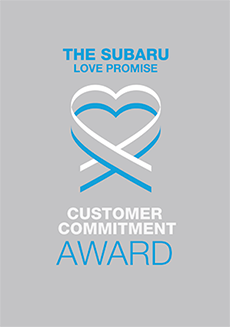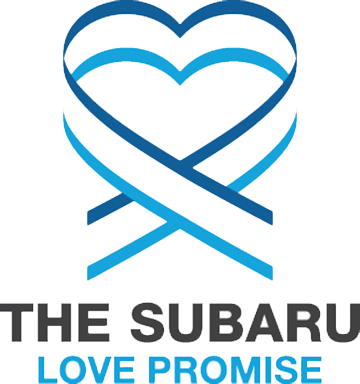 What is the Subaru Love Promise?
Subaru and our retailers believe in making the world a better place and the Subaru Love Promise is our vision of respecting all people. This is our commitment to show love and respect to our customers and to work to make a positive impact in the world.
How is Eastside Subaru dedicated locally to the Love Promise?
Our Love Promise can be seen in various partnerships with local charities and non-profits. We're grateful for the opportunity, not only to be a part of our community, but to serve it as well.
The Mountaineers, National Park Foundation
YMCA , Gonzaga University, St. Benedicts School, Teach for America
MTAA Youth Baseball, Meals on Wheels, Make a Wish
Cystic Fibrosis Foundation, Hope Heart Institute, Community Cancer Fund
Love Promise Stories from Eastside Subaru
Subaru and Eastside Subaru believe in making a positive impact on the communities in which we live and work. We uphold that belief through our Love Promise Community Commitment. Every month, we select inspiring stories from customers and partners from around our area who strive to support our collective commitment and feature them here
Montley Zoo's Strut your Mutt adoption day - Jme T
Motley Zoo is a volunteer run, foster based Washington state nonprofit animal rescue located in Redmond WA. They have been able to save over 3,300 animals since 2009. Animal shelters contact Motley Zoo for help when they cannot help an animal. Motley Zoo pays for medical treatment if necessary and places the pet in foster care to help them become adoptable. Motley Zoo works with families looking for compatibility with the pet as the first priority. They want to make sure this is a successful lifelong adoption. Dogs typically come from shelters when they are overflowing, or the animal has a specific need that cannot be addressed in that environment. Medical issues: bad teeth, hair loss, eye/ear problems, heart murmurs or broken limbs, etc. Medically susceptible: pregnant dogs, nursing moms, puppies, senior dogs, already ill dogs. Emotional needs: those experiencing stress (hiding, barking/ panting, escaping). Behavioral needs: those who require additional training and socialization, minor behavior mod. Dogs come to us from owner-surrenders for a variety of reasons such as: unwanted litter, moving, new baby, medical issues in human, medical issues in dog, financial issues, allergies, not getting along with other pets or family, other minor behavioral matters / lack of training. Eastside Subaru is fortunate to partner with Motley Zoo to help them with medical costs and housing. We look forward to helping them by donating funds, manpower or advertising their events and causes.
---
Eastside Subaru loves to Care for Cancer Patients - Katie J
Eastside Subaru is a wonderful partner in the fight against blood cancer and giving back. On July 12, 2019, they showed their dedication to the mission of the Leukemia & Lymphoma Society of ending blood cancer and improving the quality of life of patients and their families with a special delivery. They hand delivered 80 warm blankets to cancer patients at Halvorson Cancer Center at Evergreen Hospital to help ease the discomfort cancer treatment can cause. Thank you so much for helping LLS fulfill our mission and for caring about cancer patients in your community.
---
Eastside Subaru - Chuck Jones - Douglas R
At 60 years old I have been taken by every auto dealer trick known to man. Chuck Jones is the exception. In internet sales, he responded to a price inquiry that was $4400 below rebate. I thought that this was the classic bait and switch tactic. I went into the dealer for a test drive after the offer had expired. I didn't have to fill out a bunch of forms (really a tactic to get sales data on me), just take the car out by myself and go. After the test drive, I told Chuck what I wanted to buy. He told me the price was $4000 under invoice. I showed him the offer and he took it to his manager. Chuck didn't make me cool my heels in the room for 30 minutes (another tactic), but was right back and honored the offer. Great sales experience. Fast, fair, and honest. The dealer could offer a lot less than invoice and make more money, but they don't. The usual car dealer tactic is to separate you from as much of your money as they can, but not Eastside.
---
Eastside Subaru Bloodworks Blood Drive - Karen C
Eastside Subaru is dedicated to serving our community. One of the ways we do this is by hosting a blood drive for employees and customers! We want to thank you, blood donors and supporters, for your combined efforts in saving lives. Here are a few results from the Eastside Subaru Blood Drive hosted on October 3, 2018. Units Collected: 9 registered to give & 7 units were collected Potential Lives Saved: 21 First Time Donors: We welcomed 6 new donors for this event. We hope you become regular blood donors for years to come!! Dedicated Donors: The top donor gave blood for the 107th time. Special thanks to all who donated, to Ken Pletcher for coordinating the details, and to Eastside Subaru for hosting us. The gift you give is needed by so many each and every day. You help ensure that our regional hospitals have the necessary blood supply for patients!
---
Eastside Subaru Supports Local Cancer Patients - Anne G
Matt Waitman and Hussein Patwa from Eastside Subaru arrived at Evergreen Hospital on Friday, July 28th, with a bounty of patient blankets and a huge box full of craft kits for kids who visit loved ones fighting cancer at Evergreen Hospital in Kirkland. Receiving this great gift were Evergreen Foundation staff member Meg Powers and Executive Director Kae Peterson who explained how useful these blankets are to cancer patients as they undergo chemotherapy treatment. They told the group that they delighted in distributing 50 blankets last year and are even more pleased to be distributing the 80 blankets just donated by Eastside Subaru, as well as the craft kits that kids enjoy while visiting family. Kae noted that patients liked their blankets so much last year that she often sees returning patients bring those blankets along with them for outpatient appointments and inpatient stays. LLS Executive Director Anne Gillingham joined the group to thank both organizations for their support of blood cancer patients in the local community.
---
NWF and Subaru Loves the Earth - Susan R
It also shows where we put the bird houses, toad house, sign bird feeders and butterfly bath. There children released our classroom butterfly's directly onto the bath on the last day of school. I will send updates as the garden grows and when the children return in the fall. We use our garden to enhance all areas of our curriculum so we are honored to have received all these wonderful garden enhancements from Subaru.
---
Subaru Loves Pets - Kim G
Come help us donate pet food and supplies to the local Humane Society here at Eastside Subaru!
---
Let us donate a book on your behalf! - Kirkland S
Let us donate a book your behalf ! Visit our showroom at Eastside Subaru during the month of August to help us donate books from our partner AAAS to local schools and learn how you can support them as well.
---
Subaru Loves to Care! - Josh B
Here at Eastside Subaru, we love to help people! This is why we partnered with the Leukemia and Lymphoma Society to provide blankets to patients in need!
---
Doing our part to save the butterflies - Eastside S
Did you know the monarch population in the United States has declined by more than 90 percent in recent years? For the month of April, Eastside Subaru is partnering with the National Wildlife Foundation for the Butterfly Heroes Program. Butterfly Heroes seeks to bring awareness to the declining population and connect our community of gardeners and kids, families, and schools alike to help the monarchs and other pollinators. Creating monarch and pollinator habitat is a wonderful opportunity for observing one of nature's most miraculous occurrences. The unique transformation the monarch butterfly undergoes during its lifecycle from egg, caterpillar (larva), chrysalis to the delicate yet resilient butterfly is wonderfully intriguing for students and teachers alike. Eastside Subaru will have a butterfly habitat planter on site and be giving away seed kits. Stop in and check it out. We also encourage you to be a butterfly hero and grow your own butterfly habitat at home. It's a great activity for the kids or grandkids.
---